On a clear morning when other CEOs might be heading to the country club for a round of golf, Jimmy Bankston pulls on a pair of boots and makes his way to the horse barn. Bankston, like a surprising number of accomplished businesspeople in North Texas, is an avid practitioner of an increasingly popular Western-equine sport known as "cutting."
Cutting, in ranching lingo, is the act of separating a cow from its herd. These days cutting is an art practiced in the show arena, where horse and rider have just two-and-a-half minutes to isolate a calf from its companions. After the rider singles out a calf for cutting, he must drop the reins and free his mount to dash left and right at will, coaxed only by foot pressure. An expert horse knows to instinctively block a nervous calf from charging back to the safety of its herd, much like an offensive lineman in football zig-zags to protect his quarterback.
The National Cutting Horse Association, which is based in Fort Worth, began with 13 members at its inception in 1946. Today membership surpasses 20,000. Along with the sport's growth have come increasingly professional trainers, expensive horses, and financial opportunity. Last year, riders competed for $40 million in prize money, including winnings from the three top international competitions held annually in Fort Worth.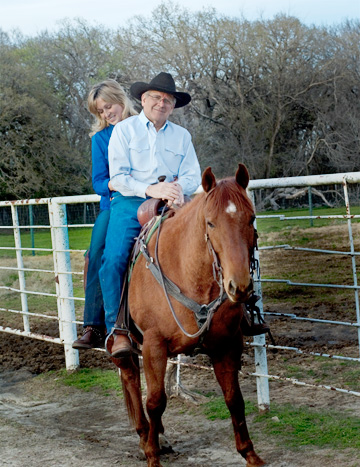 "Cutting is an addiction. It's a passion," says Bankston, past owner of the eponymous auto dealership, whose home office is stacked with winning buckles reflecting $100,000 in prize checks he's earned for cutting in the show ring. Since divesting the car dealership in 1997, Bankston has become more active in cutting, an avocation he shares with his wife.
While Bankston is always thrilled to win a prize check, he finds cutting its own reward. "I love going to the show, getting the horse ready, and hanging around in the barn and visiting with everybody," he says.
In his zeal for the sport Bankston is like many North Texans, including some who appear on Forbes magazine's wealthiest lists. They include Walmart heiress Alice L. Walton, who raises cutting horses at her Rocking W Ranch near Mineral Wells; and former Goldman Sachs president Jon Winkelried, who built a cutting-horse facility called Red Oak Ranch in Aledo in Parker County.
Bankston too pours money and time into cutting, attracted as much by the sport's financial incentives as its athletic competition, camaraderie, and Western lifestyle. "The single best investment I made in anything, anytime, anywhere, was purchasing a share in Smart Little Lena," he says.
A legendary Quarter horse stallion, Smart Little Lena won the triple crown of cutting in record time, retired, and went on to sire descendants worth tens of millions of dollars in the show arena. Bankston's 1/80th share cost him $70,000 nearly 28 years ago. By the latest count, his investment has yielded over $350,000 in breeding fees.
Although he's retired on paper, Bankston can't resist a good business opportunity. A few years ago he launched a small business through his Bankston Farms to provide amenities to NCHA show entrants—a sort of horsey concierge service.
In an oversized garage on a 20-acre farm in West Fort Worth, Bankston shows off gadgets he has devised for the business. Rows of ordinary hand drills are mounted upside down and rejiggered to simplify the process of rewinding protective leg wraps worn by the horses. A few steps away, large crates hold spray booms that Bankston has modified from his car-wash businesses and that now help wash down sweaty horses. All this equipment and more gets hauled over to Will Rogers Coliseum for the big cutting competitions. Those events, says the NCHA, attract more than 30,600 visitors and $50 million in taxable commerce to Fort Worth every year.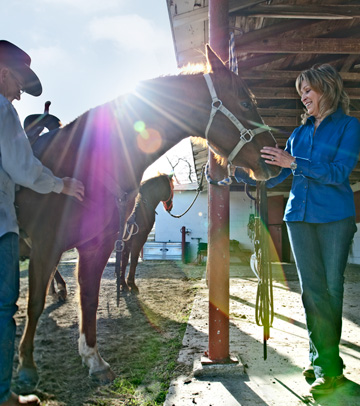 Love at First Ride

Bob Kingsley climbed onto a cutting horse for the first time at a charity benefit in Nashville in 1993. The experience struck like lightning. "I thought to myself 'a horse, a cow—this is it.' It was that simple," says Kingsley, a country-music radio personality who's heard on more than 335 stations around the world.
"There was a time in Bob's life when he didn't think he could possibly live outside of California," says Kingsley's wife, Nan. "Then he tried cutting, and Texas started calling."
Today the Kingsleys live on 150 acres just outside of Weatherford, considered the cutting-horse capital of the world. At last count they've got 19 cutting horses, many of which are offspring of their own ranch's breeding program.
Nan shares a career in radio with Kingsley, but isn't a horse person like her husband. Between recording his syndicated weekly country-music countdown show—heard locally on KPLX-FM (99.5 The Wolf)—and traveling regularly to the Country Music Hall of Fame in Nashville, Kingsley doesn't have as much time as he would like to practice on horseback.
"Learning the rules of cutting, learning how to ride, how to use your feet to direct the horse, and giving the right cues when you're not born to it—it's a long road," says Kingsley. To improve his skills, he began competing in weekend shows several years ago. These events ran late into the evening, and Kingsley would return home in the wee hours.
His wife recalls being roused from a deep sleep at 4 a.m. one Sunday morning. "He woke me up to show me a $26 check. It was his first win," Nan laughs. "We framed that check. That's how happy he was; that's the passion that's gotten hold of him. When he's not thinking about work, he's thinking about horses."
"There's no more joy than going out and having a good run," says Kingsley. "It's almost beyond words. One good run will hold you for another year."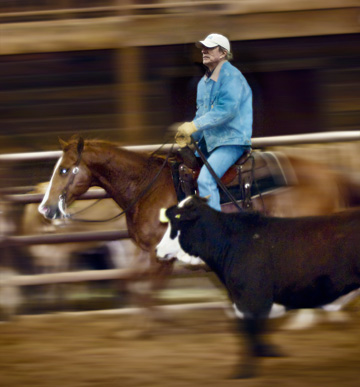 Going for Broke

Winning may be intoxicating, but a cutting horse high doesn't come cheap. Bankston estimates that $50,000 will get you that first starter horse, saddle, boarding, and about six to 12 months of training. If you manage to get into the upper echelons of the sport, the best horses can run upwards of $100,000—and that doesn't cover board, vet bills, insurance, gear, trainers, or anything else.
"The numbers are so big in this deal, you have to treat it as a business," Bankston says.
Because of their value, cutting horses lead a pampered life. Early on, they work with a professional trainer to develop athleticism and agility and, hopefully, that elusive combination of internal drive and "cow sense." When the horses reach the age of 3, they're introduced to the show ring.
Nan Kingsley had sticker shock when she and her husband purchased the mare that was named 2002 NCHA horse of the year. "In my life I never dreamed that we'd spend that much money on a horse," she says, declining to name the exact amount. That horse became the cornerstone of the Kingsleys' breeding program.
"It's a long-term investment—both financially and time-wise—from the minute the horse is bred to the offspring's first competition as a 3-year-old," she says. Injuries, unfortunately, are a big part of the business as well, she adds.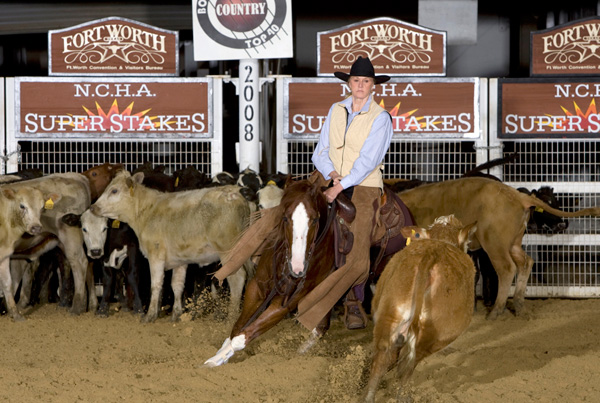 Rhinestone Cowhorses

"Cutting is one of the greatest life experiences I've ever had," says Jo Ellard.
Ellard is wearing jeans, boots, and spurs during a casual visit to her training ranch; her blonde hair is neatly tucked through a baseball cap. "It's the only discipline where the horse has to think—and that's the biggest challenge," she says. "You have to work through one animal to control another animal."
Jo and her late husband Bill Ellard, who passed away in March, made a big commitment to the equine sport years ago. Among the Ellard holdings are a 1,200-acre breeding ranch in Whitesboro that houses 13 stallions and up to 400 brood mares and foals; a 200-acre training ranch in Pilot Point that serves as a boarding school for dozens of teen-age horses; and a Wyoming ranch where top-quality hay is grown to feed the two Texas cutting ranches.
Bill, who served as board chairman of the National Teachers Associates Life Insurance Co., rode only rarely, but actively oversaw the myriad of operational details at the Ellard ranches. Jo is a veteran cutter of 20 years and has earned at least half a million dollars in prize money.
 "It's more than a weekend hobby to compete in the big tournaments," says Jo, who in the past has practiced up to four days a week before a show. "It's very time-consuming. I have five full-time trainers that train for me and prepare my horses. I show up and compete."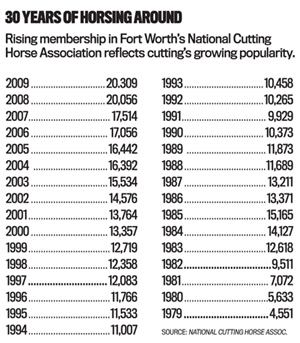 She likens the equine sport to tennis, where most players compete at the country-club level and only a select few reach the U.S. Open and other top events. Many cutters compete in the small weekend shows, but a limited number qualify for the major shows. Jo has competed at both levels.
On a recent morning, the Ellard training ranch is a flurry of activity. Several chestnut-colored horses are hooked to an overhead merry-go-round-style tether, walking themselves in a large circle. In an adjacent round pen, staffers put a handful of horses through their paces. Eight more horses are tied to a nearby fence, awaiting their practice session.
Heavy training is under way inside a 12,500-square-foot arena filled ankle-deep with clean, pillowy dirt. There, a trainer is putting a sorrel through maneuvers against a small herd. The horse parries and thrusts, trying to prevent one of the calves from rejoining its friends. At the trainer's whistle, herding dogs bolt into the arena and rearrange the herd. To keep the horses sharp during practice sessions, each month the ranch trucks in 160 head of fresh 6-month-old cows, and the previous herd departs.
For families that can afford it, cutting has become an activity for all ages. NCHA members range from youngsters up to senior citizens, and Jo Ellard sees the sport growing in popularity around the world. Businessmen from Italy, Sweden, Venezuela, Brazil, and other countries have all come to purchase cutting horses from the Ellard ranches.
Who are all these people joining NCHA? "A lot are business executives who have their companies under control so they can go to these events and participate," says Ellard. The ranks of cutting also include attorneys, doctors, and other professionals with the means to participate on weekends, for recreation.
"Instead of going boating or golfing, they go to their farm and show their horses," Ellard says. "It's an amazing lifestyle."
Get the D CEO Newsletter
Stay up to speed on DFW's fast-moving business community with weekly news reports, interviews, and insights.